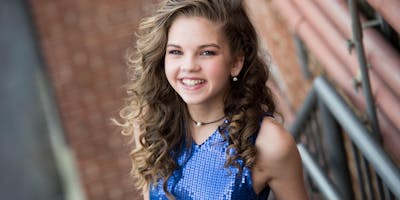 Callista Clark with Ava Grace
Callista Clark is a 15 year old singer/songwriter from Zebulon, GA. She is a soulful, bluesy
country artist who is known for her big voice and emotion filled original songs. She also rocks both the acoustic guitar and the piano. She has a large social media following with over 65 million views on Facebook and over 2 million views on Youtube. You may have even watched her "Have You Ever Seen the Rain?" and "Go Rest High on that Mountain" videos! Her voice has been described as a mix between Adele, Carrie Underwood, and Janis Joplin. Two of her biggest musical influences are the late Eva Cassidy and Jennifer Nettles of Sugarland, with whom she has had the honor of performing with. Callista is accompanied by her guitarist, Brake McGaughey, 15, from Decatur, GA.