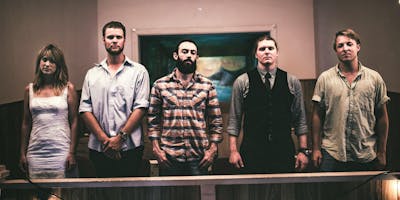 Caney Creek Company
All Ages Show | Doors: 6 PM
From the beginning, Caney Creek Company has been a story of friendship. The group formed around songwriter Konstantine Vlasis, who turned his fascination with the banjo into a full-fledged band. He recruited Katie and Corey Bradford and Drew Streip, none of whom were bluegrass pickers. Three of them weren't even playing their primary instrument.

Their first rehearsal started with three songs and no expectations but to have fun. However, it was evident that they had promise. Friends and family convinced them to keep writing songs; soon they had upwards of ten originals. Doug Ford, a longtime family friend, joined the band. Within weeks of buying his first upright bass, he was integral to the group. They learned covers, honed their instrumental chops, and even started thinking about their appearance. Most important: They booked some gigs outside of the living room.

It would be easy to categorize Caney Creek Company as a bluegrass band based on their lineup of traditional instruments. However, their sound continues to progress, often including elements of folk and indie rock with equal frequency. Meanwhile, their approach to songwriting remains true to the storytelling tradition of Americana. It's a sonic formula that appeals to all generations. Like a wedding vow, the songs will see you through sickness and health, wealth and wanting, some bad times—but especially the good ones.