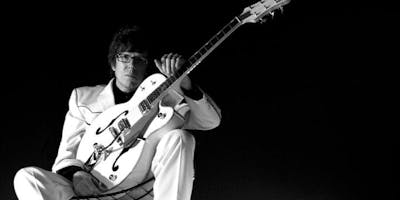 Kenny Vaughan Trio
"My dad listened to Jimmy Smith, Mose Allison, Count Basie, Woody Herman, Miles Davis, Tony Mottola, and used to take me to hear Johnny Smith play at Shaner's in Denver. My neighbor, Charles Sawtelle, listened to Flatt and Scruggs and played Salty Dog on his Martin guitar for me. I knew then and there that I wanted to do that! I got my first electric guitar when I was twelve. The first thing I played was 'Folsom Prison Blues'. My first band played Stones, surf, '60's garage punk, and Memphis soul. I saw the Stones, Jimi Hendrix, The Cream, Howlin' Wolf, Captain Beefheart, Buck Owens and The Buckaroos, The Dead, The Doors, Peter Green's Fleetwood Mac, Johnny Winter, John Mayall, and Led Zep's first stateside gig, all before I was sixteen!"


Vaughan studied with guitarist Bill Frisell, which led to gigs with a local progressive jazz group. "Bill really opened my approach to my playing," he explains. At eighteen, when his family moved to rural Kansas, Kenny opted to stay in Denver, and after answering an ad in the paper, he began working seven nights a week playing country music on the local honky-tonk scene. "I played with some real characters," Vaughan recalls, "Great players and singers. We played mostly '50's and '60's country. It was like another world — I was playing a joint one night and Willie Nelson showed up and sat in for two hours, we ended up on his bus in the parking lot. Fantastic!" It was during this time that Merle Haggard and Waylon Jennings performed in the area. "Seeing those two shows changed everything. They had great bands and sang with remarkable intensity and depth."

Kenny's musical evolution continued when an invitation to join a neighborhood rock n' roll party band led to the formation of The Jonny 3, a legendary Denver band that played the upstart punk rock scene. As Kenny recollects, "The drummer, Leroy X, came to me with a notebook full of lyrics and suggested that we write some songs. We ended up churning out hundreds, some were pretty good!" The band soon had followings in Chicago, Minneapolis, and NYC. "We were really on a roll, but we couldn't get along and dissolved before we could follow through."

Following his jaunt into punk rock, Vaughan continued to play the honky-tonk scene before moving to Nashville in 1987, where he would play with The Sweethearts of the Rodeo, Patty Loveless, Rodney Crowell, Marshall Chapman, and Kim Richey. 

In 2001, following a three-year stint on the road with Lucinda Williams, and a few years developing his reputation as an in-demand session player, Kenny got a call from Marty Stuart, asking if he might want to start a band.

"I said sure!" Vaughan recalls. "Marty Stuart and His Fabulous Superlatives are the band of a lifetime — I've learned a lot from Marty, and I'm fortunate to be in this band. They backed me on my new project, and I couldn't have done it without them."

Vaughan penned all of the songs on his new release, two of which, "Stay Outta My Dreams"("our tribute to Buck Owens"), and "Don't Leave Home Without Jesus"("our church house rocker"), were co-written with Stuart.

Stuart keeps Vaughan busy touring, recording, and performing on The Marty Stuart Show, which airs every Saturday night on the RFD-TV network.