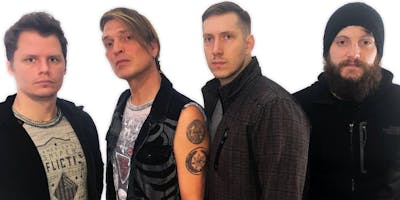 Mighty Sideshow with Seven Stones

Mighty Sideshow is a Chattanooga Tennessee based hard rock band, with Alan Whitener (vocals/guitar), Cody Cass (guitar), Micah Osborne (drums), and Mcclain Patterson (bass). Mighty Sideshow is a harder edged melodic rock group with thought provoking lyrics. The Sideshow exploded onto their local scene, supporting many national bands that came through town, such as Candlebox, Cracker, Double Drive, Full Devil Jacket, and many others. The group consistently delivers superb live performances that mirror, and even surpass, the energy they create in the studio. 
​
The band quickly grew regionally, including a residency at Club La Vela in Panama City Beach Florida, where they played to record-setting crowds. Mighty Sideshow released a 10-song live demo that rapidly sold an impressive 4,000 units of the unofficial release. 
​
"Part of Something" was the bands' first album release which launched the title track single. Active Rock Radio embraced this tune, and it was featured in the Top 100 on nearly a dozen radio stations nationwide. The "Part of Something" album, produced by Jeff Tomei (Matchbox 20, Smashing Pumpkins, Jerry Cantrell, Jackyl) sold over 15,000 units in the first year and gave Mighty Sideshow the opportunity to tour with the likes of Jackyl, Tesla, Sponge, Saliva, Seether, 3 Doors Down, Ted Nugent, and many others. The Sideshow also secured spots on the Vans Warped Tour, Rock Never Stops Tour, and The Girls Gone Wild Rocks America Tour. 
​
Mighty Sideshow eagerly followed-up their successful debut with "Dare You To Think", released on Medicinal Records. The band spent much of their time on the road in support of the new record. The song "99 Ways" quickly found its way onto many radio stations across the country and was the #1 most requested song on WRXR in Chattanooga for nearly 2 months. Mighty Sideshow gained even more air-play all over the country as they took their new album on the road. Mighty Sideshow soon landed another chart topping radio hit called, "Charades". The incredible staying power of this song kept the Sideshow in a heavy radio rotation throughout the year and attracted the attention of many record labels. 
Later, Mighty Sideshow procured a "development deal" with Atlantic Records, which produced 3 more tasty "rock & roll" treats that ended up on the 2008 release appropriately titled, "Charm". Through the album's touring cycle, the band played and toured with bands such as Avenged Sevenfold, Papa Roach, Breaking Benjamin, Ten Years, Sevendust, and Saving Abel. As of late, the band is poised for their 5th upcoming EP. They have been writing and recording songs that are sure to produce their best release to date.
Voodoo Slim Bio:
Voodoo Slim was formed in 2014 with :Tab Baccus, Keith Coffey, Ian Malign, Randy Brock and Jon Colston. With a love of several different genres including everything from Disturbed and Salt and Peppa, to The Beatles and Blackberry Smoke. . . Voodoo Slim quickly became a 

crowd favorite because of their music diversity and ability to entertain. Randy Brock retired in 2016 and Jim Denham joined the group on bass duties. Jon Colston stepped down as lead guitarist in 2017 and Rodney Price is now filling that slot. Brian Irwin stepped in at the drum kit in 2017 as well.

The band continues on doing it's best by playing something for everybody and creating a show that is entertaining and memorable.